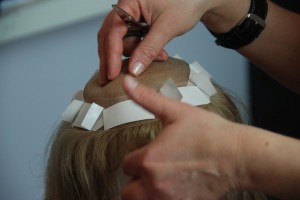 It is crucial to clean your skin before reattaching your system. Spray Lace Rlease on a swab and wipe the place where tape is to be attached to your skin. In the case of some individuals, there is no need to wear a hair system for a prolonged period of time. They take it off every few days and put it on again when needed. Some prefer to leave it for a remarkably longer time. You should change adhesive tapes every time you take your system off.
If you wear a lace base, it is recommended to take advantage of stronger tapes, mainly because the said bases have less tack surface. You should try tapes made by Derma-tec or Air-flex. While removing the base from the skin, you must be careful not to rip it apart. Always hold the tape near the base while peeling. Find the edge on the back and gently scrap across it with a fingernail. You just have to peel up enough so you can grab it with your fingernails. If you want to clean the lace base after taking it off, spray it with an adhesive remover. Such an action will make it easier to peel off the tape from the base. Do not use an adhesive remover if you do not want to clean it. Spray will reduce tape hold and you will have to clean it before attaching it again.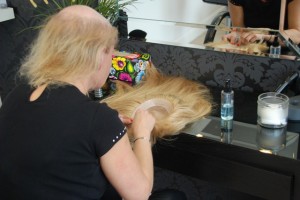 Cleaning you skin before the attachment of the system is of utmost importance especially when you plan on wearing your hair system longer than a week. Those who prefer a liquid adhesive than a typical tape and the systems of whom have the base made out of polyurethane should think about putting a thin tape to the base and then – put a liquid adhesive on it. This will make base cleaning remarkably easier. The only thing you will have to do will be to change the tape.