It is very important to prepare your skin for the attachment of the system. No matter how strong your tape or adhesive is, the medium used will never be as strong as they should be without proper scalp preparation. Even a small residue of glue or dirt may to a notable extent affect the adhesion of your hair system.
To make sure you avoid it, read the text below:
You will need the following:
Adhesive remover, scalp scrub, shampoo, wet towel, paper towel, razor and shower with running water.
STEP 1: Removing adhesive residue:
Take a wet towel and begin wiping all the visible traces of adhesive.
Using paper towel with adhesive remover, rub your scalp until it is clean.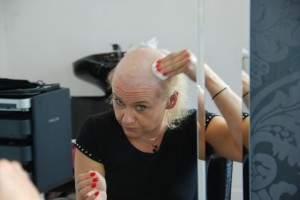 STEP 2: Wash your entire head!
Take a shower and wash your head at least two times. During the washing-up process, use a scalp scrub. Wash off at least 3 times to eliminate all the adhesive residue.
Tip:
Use Activ Regulator to balance the PH of your skin.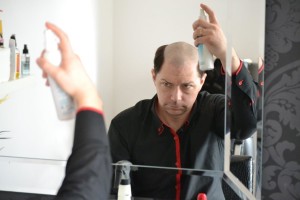 STEP 3: Dry your head.
After washing dry you head using towel or dryer. If necessary, you can now reduce the amount of hair growing in the place where you hair system will be attached. You need to shave such spots as precisely as possible, so it is highly recommended to use an electric razor.
STEP 4: Using Scalp Protector.
Apply a layer of Scalp Protector on your head. Thanks to the use of this product your skin will be protected and tapes or glue will become more adhesive. It must, however, get dry before you start attaching your system.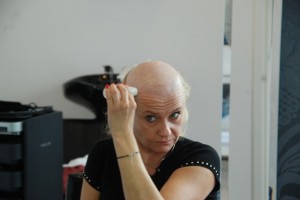 STEP 5: System attachment
Now you are ready to attach your hair system.